Want your own music?

Jagorart is a professional juggler; but also a music composer, arranger and producer.
It's possible now for every artist to have his own custom music, written and arranged on specific tempo, instruments and mood request, to emphasize your act in the unique way you want. Considering the experience grown in shows, it will be easy to clearly understand the technical performance needs of every act, and match them with music, precisely.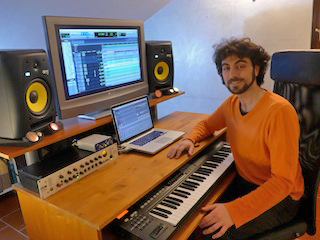 The audio production is developed in digital for its major part, by using the most spread software (Pro Tools), empowered by some professional-standard samples, effects and virtual instruments, that can be recorded through a 5-octave master midi keyboard, the Roland A-800 PRO, or a Casio Privia PX 350 digital piano.
But there's also the possibility to record single voices with a Rhode NT2 capacitor microphone, run through a line valve processor, the TL Audio 5051, that enhance the quality of voice recording with its warm color.
A classic vertical Balthur piano completes the range of keyboards, while some characteristic analogue instruments extend the possibility to have different sounds, typical of the past: a Korg Volca Beats (analogue drum machine), a Korg Monotribe (analogue synth with integrated 3-piece drum machine),that can be played through delay, chorus and reverb.
Last, but not least, the king of the 80s East-European synth, a Formanta Polivoks.